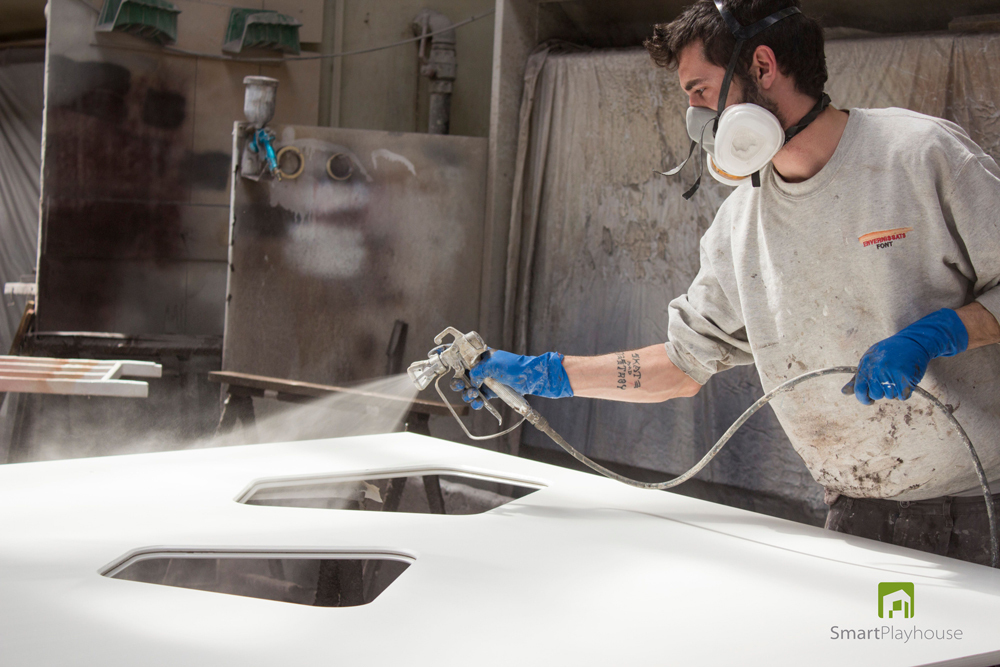 Playhouse Maintenance: tips on how to preserve the quality of your playhouse for a long time
Outdoor playhouses can help parents ensure children's all-around development in the comfort of their own backyard. It entertains kids and provides the perfect place for activity, creativity and imagination. If you have recently purchased a playhouse, you are probably wondering how to keep the playhouse maintenance in good condition?
A playhouse needs regular care to maintain it in perfect condition throughout the year. If you're searching for playhouse maintenance tips, here are some advice on keeping your wooden playhouse in great condition and ensuring many years of outdoor playtime fun for children.
Regular playhouse maintenance and cleaning
Playhouse maintenance may look easy, but it is the best way to extend the life of your wooden playhouse. Regular cleaning and inspections ensure that dirt and dust do not accumulate. Checks are helpful because they will allow you to detect any serious problems. You can spot rot or damage before it has a chance to cause real damage to the playhouse.
Start by clearing out the playhouse and give it a good scrubbing with a brush to get all the cobwebs out.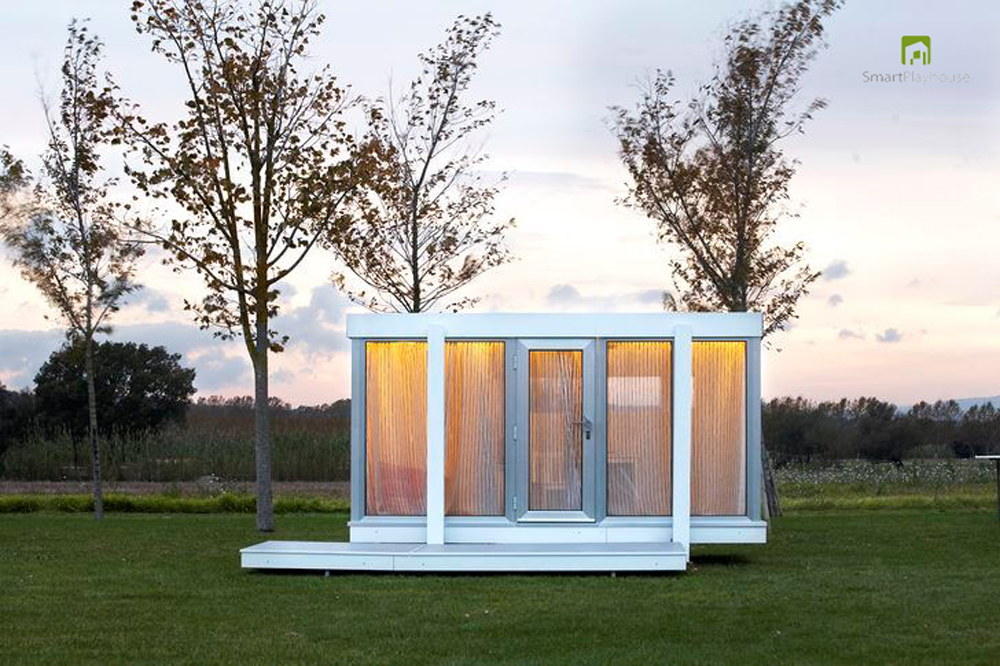 Furthermore, inspect the outside of the playhouse by inspecting the outer surface
Inspect the wooden surface for cracks, chips or potholes
Don't forget to check the roof for cracks as well
You should also pay attention to faded paint
Locate loose nuts, screws or nails between the wood and retighten them if necessary.
Check the windows for broken glass or any other damage near the window panels.
Make sure that no moss has formed on the wood.
Check the surroundings for traces of digging by rodents or other small animals.
After inspecting the outside of the playhouse, move on to checking the inside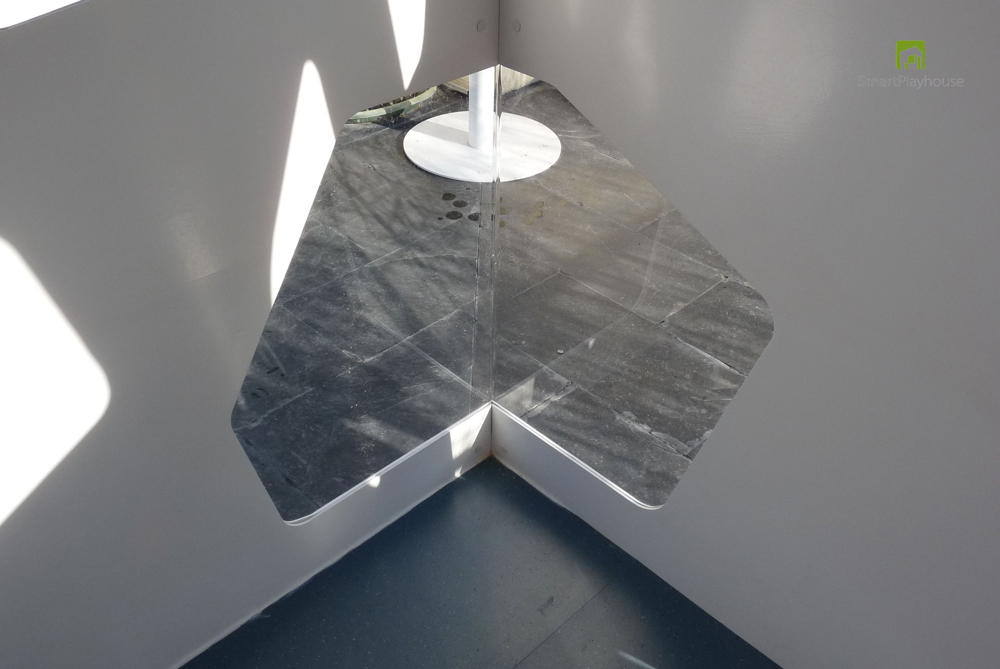 Check for any insects, e.g. ants or termites, that may have got into your wooden playhouse and possibly made nests.
Inspect wood surfaces for moisture that may have accumulated in ceilings and floors
Lubricate the hinges and locks to prevent them from rusting.
Pay attention to the seals on the windows, whether they allow moisture in
Carry out an annual playhouse maintenance
In addition to minor cleanings, be sure to have the playhouse maintenance and complete cleaning at least every three months
General playhouse maintenance and cleaning.
Move out all the furniture and toys, open the windows and air the playhouse from the inside. Wash the wooden parts of the playhouse and the windows with a soapy water.
SmartPlayhouse recommends to clean all the surfaces of our playhouses once or twice a year with a neutral detergent.
Trim the trees
Preferably, your playhouse should be located away from large trees. In strong winds, branches may break, causing damage to the structure. In addition, fallen leaves can accumulate on the roof of your playhouse in autumn and winter and seep excess moisture into the wood. Be sure to remove leaves as soon as possible. If not, they can promote wood rot and fungal growth.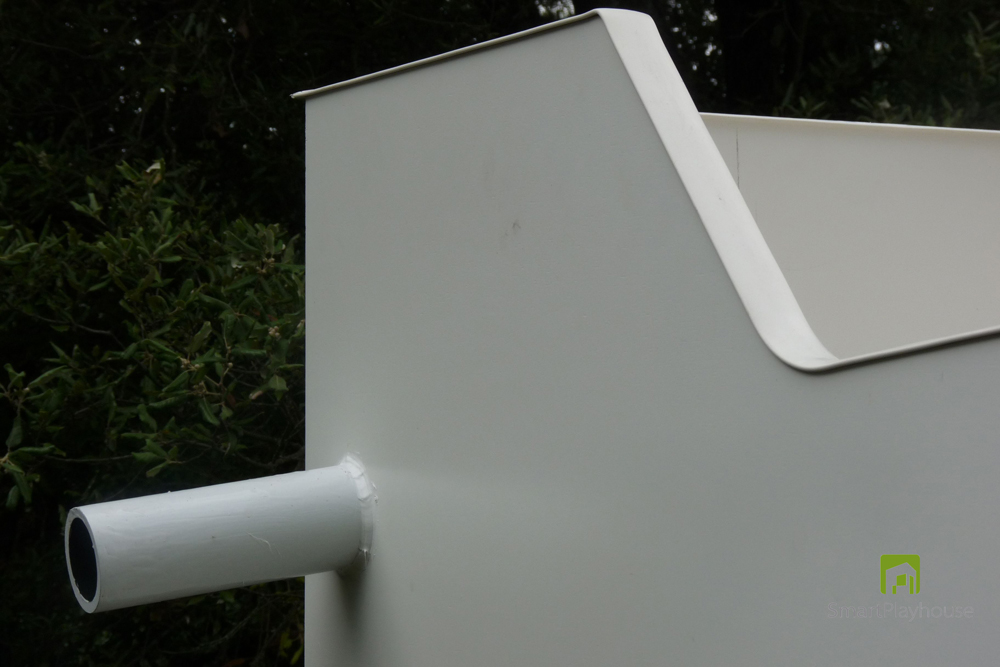 Rapid playhouse maintenance
With regular inspection, look out for any signs of damage or breakage. Look out for broken or splintered pieces of wood, gaps between boards or holes in the wood. Any breakage or crack can become a serious problem later on if action is not taken now. Holes allow water and wind to enter and this may result in serious damage to the interior of the playhouse. If damage is found, it must be repaired immediately. Fixing the breakdown quickly will greatly reduce the likelihood that they will damage your playhouse
Checking for rot and water damage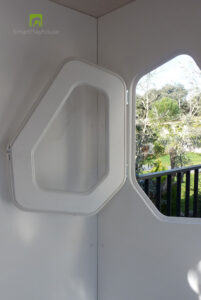 First of all, you should check the windows, doors and a roof. These are the places through which water gets in. When water enters the playhouse, it can damage the wood directly and lead to rotting, which is very dangerous when it comes to wooden structures. It can be detected if the wood is damp and crumbling. If you find a leak, clean the surface, patch the leak and ventilate the shed as much as possible to disperse the moist air. It's important to keep playhouse maintenance.
Unlike other children playhouses, the doors and windows of SmartPlayhouse are sealed and do not let neither rain nor wind in. Once put up, the inside is dry even in bad weather conditions, like a real house. Everything inside remains dry, even if the water flows on the ground as the house is risen above the ground.
Ventilation as an important part of a playhouse maintenance
Remember of a playhouse maintenance, especially during the cold season. Ventilation is necessary to avoid and eliminate excess moisture inside the playhouse from the air. Make sure that the playhouse is ventilated so that air can flow in. We do not recommend storing soft toys inside the playhouse in winter because they will be affected by moisture and may suffer from damp air.
Treatments
Proper playhouse maintenance is important to keep its structure protected from weather conditions that can cause damage if the wood is left untreated. To do this, you should treat a playhouse annually with wood preservative. This will protect your garden house from wood rot, insects and external influences.
Smartplayhouses, unlike any other wooden playhouses, do not need yearly treatment. We only suggest to renovate painting every two years. With us you will not need to deal with staining, wood preservatives to pressure treatment and finish coatings.
Playhouse maintenance: paint
Over time, the colour will begin to fade and become a little lighter. To avoid this and to waterproof the house, it needs to be painted at some point.
Smartplayhouse models with wood on the outside will require painting approx. every two years, depending on the weather and the sun exposure. For the wood we recommend open pore water lasure which maintains the hygroscopic equilibrium of the wood.
With a little care, you will be able to give your kids a place where their imagination will run wild for years to come! Remember these useful playhouse maintenance tips so that your children can get the most out of their playhouse.
Do you want to buy a playhouse?
Contact us!