En este artículo vamos a hablar de los orígenes de las casas de los niños, en mi modesta investigación.
Cualquier contribución es bienvenida.
Casitas de juegos han existido desde hace siglos y se han utilizado en todas las culturas, pues a los niños les encanta crear su propio espacio personal, como muestra de su propia individualidad.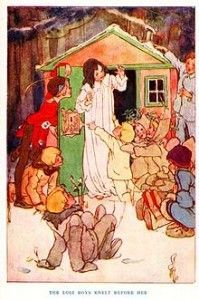 En la Wikipedia, encontamos el término "Wendy house" para referinos a estas construcciones; una palabra que no existe en español.
"The original was built for Wendy Darling in J. M. Barrie's play, Peter Pan, or The Boy Who Wouldn't Grow Up. Wendy was shot by the Lost Boy Tootles after arriving in Neverland, so Peter Pan and the Lost Boys built a small house around her where she had fallen. It was inspired by the wash-house behind Barrie's childhood home in Kirriemuir[1] and first appeared in story form in The Little White Bird in which fairies build a house around Mamie Mannering—the prototype for Wendy—so protecting her from the cold."
A prop house was created by Barrie for the first stage production of the play in 1904. It was constructed like a tent so that it could be erected quickly during a song which Wendy starts with:
I wish I had a darling house
The littlest ever seen,
With funny little red walls
And roof of mossy green.
"
Las casitas de jardín son pequeñas, pero grandes y lo suficientemente estables para que los niños entran y salgan; tienen una puerta y al menos una ventana. Por lo general, consisten en una habitación, y elementos de decoración hechos por los propios niños. El término "Wendy house" es realmente se utiliza especialmente en Gran Bretaña, y se ve en muchos jardines, en los que a menudo se ven como cobertizos de jardín, mientras que en estados unidos se utiliza más el término playhouse. En Australia se conocen como Cubby-house (o simplemente Cubby).
Personalmente, pienso que en toda la zona del norte de Europa, incluyendo a Noruega-Suecia-Finlandia y Dinamarca (por supuesto!), Las casas de jardín se están construyendo desde hace mucho tiempo, seguramente porqué a los niños les ayudan a crecer de forma independiente (ver el artículo sobre Educación), junto con el hecho de que estos países tienen muchos jardines a los que a los padres les gusta cuidar.
Aquí tienes algunos ejemplos de casas de madera antiguas:
La casa es un ejemplo representativo de la década de 1800. Finlandia (Päivi Siikaniemi). Leikkimökki en Suomi, Legehus en danés, Lekstuga en ueco, y Lekehus en noruego.
Y qué pasa con esta casa de juegos? ¿Es antigua o moderno??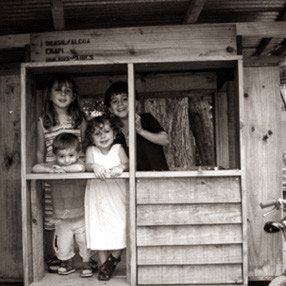 Para leer más sobre las casas de juego, aquí hay una lista de fuentes recomendadas:
David Stiles, Jeanie Stiles Playhouses You Can Build: Indoor and Backyard Designs
Sunset Editions. Treehouses& Play Spaces. 2012
Paul Gerhards, Backyard Play Areas You Can Make, 1995
Ursula Dubosarsky's "The Cubby House", illustrated by Mitch Vane.
Karen Stagnitti, Playthings, pp. 25–26, ISBN 978-1-876367-61-9 2000