Perludi es una joven firma de diseño de muebles para niños de gran calidad y originalidad. Asentada en Austria, su filosofía de trabajo apuesta por el cuidado en la creación conceptual de su mobiliario, para potenciar el juego y el aprendizaje de los más pequeños desde un punto de vista divertido y dinámico. En los diseños de Thomas Maitz priman las formas, colores y materiales, escogidos pensando en el desarrollo cognitivo del niño, y favoreciendo su creatividad mediante el uso..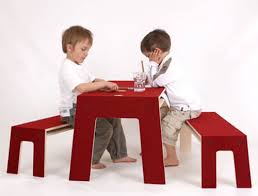 Las principales características de su catálogo son las bases minimalistas, a la par que prácticas, de sus diseños y su alegre colorido formado por diversas texturas y materiales. El acertado control de la escala, pensada para los más pequeños de la casa, así como su versatilidad para dar función no solo a las necesidades más formales del mueble, sino también a las más creativas que los niños puedan requerir, son un incentivo más de sus creaciones.
Otros puntos de interés, más constructivos, de su catálogo y que forman parte de su imagen son la combinación de curvas y líneas suavizadas, que dotan de mayor atractivo estético al elemento, y el empleo de la madera laminada, conjugada con los acabados pintados o forrados con diversos tejidos como la moquetas de lana, que le da un punto de calidez agradable para su uso.
Entre sus diseños, las camas literas Amber in the sky realizadas en contrachapado de abedul con el exterior de fieltro de lana, permiten un doble uso como casita de interior pudiéndose adaptar sus distintos niveles tanto para área de juegos como para el descanso
Otros artículos de su catálogo, por el cual la marca ha recibido un amplio reconocimiento internacional, es el set de mobiliario Max in the Box un conjunto de gran potencialidad funcional, basado en un cubo que, mediante un plano divisorio y a través de diversas ranuras y ensamblajes, puede derivar en gran variedad de muebles independientes, como un armario, taburete, silla, trona, mesa, estantería o incluso una casita de muñecas de madera.
En definitiva, los diseños de Perludi, tanto de juguetes como de mobiliario, han conseguido interesar por su versatilidad, propia de la mentalidad de lo más pequeños de la casa, junto con un tratamiento muy cuidado y de calidad, así como por su respeto hacia el espacio necesario para los niños durante el juego y el divertimento. Todo ello parejo a un modo de fabricación respetuoso con el medio ambiente y con los más exigentes niveles de seguridad.